Hello!
For this year, my BFF and I went to Taiwan last July 10-14! I think we will make it a habit that we will travel once yearly so as not to hit rock bottom with our money. We are only corporate workers earning enough money to spend wisely and luxuriously.
We booked our flight thru AirAsia, seat sale of course! Then we looked for rooms in Agoda and found out a trending hotel in Taiwan, a capsule hotel! And what's more, one night there only costs you 500-600php! It wasn't bad especially after we have experienced the place, we are more likely to return to that place!
Our total costs was around 18,500 more or less all-in: foods, transportation local and in TPE, accommodation for 3 nights, souvenirs, shopping and a checked in baggage! Kinda expensive but it sure was worth it!
So here goes!
Our flight to Taoyuan Airport was 11:45PM of July 9 from NAIA Terminal 3 and we are scheduled to land before 2AM in the morning of July 10 TPE Terminal 1. I think all flights going to Taipei have this kind of schedule when booking with AirAsia, don't know about others though. We passed immigration smoothly, well, I did. My friend was hold back a bit for some questioning when my IO didn't even spoke a single word to me. Phew. But all is well, we got through without a hitch.
After we landed in Taoyuan Airport, according to what I have read on some blogs, there is only one bus that can take you to the city, a 24/7 city bus. I forgot the name and we didn't take it. We just slept in the arrival hall at the airport because really, it is too early but my adrenaline is pumping! There are also posts about shower rooms but we failed to locate one. One staff we asked at the Departure Hall Info said that shower rooms are only available when boarding a flight, not when you arrived. Disappointed, yes, but luckily, wet wipes are here to save the day!
On your way to the city, the most convenient way to go there is use their Airport MRT to Taipei Main Station. MRT is located within the airport grounds so no need to go out of the airport. How easy was that eh? Also, for more convenience, no matter how short your trip is, do buy their EasyCard. The card only costs 100NTD and you can load it up to whatever amount you need. It can be used in convenience stores, buses, MRT and stores that accepts them. You can load up to any convenience store you find or an EasyCard machine on the MRT stations.
We loaded an amount of 500NTD upon purchasing and guess what, our second and last load amounts to a 100NTD only, to a total of 600NTD for our transportation within the metro, to and from the airport and some purchases at Family Mart.
The MRT ride to and from the airport costs 320NTD roundtrip already. Easy, cheap and convenient specially when you have luggage in tow. Upon arriving at Taipei Main Station, look for a map. Their MRT Map is easy to understand, it has English translation, the station also has big signs you cannot miss on where your line will be. That map will be your best friend when using the metro.
We set off to Taipei Bridge, orange line 13 to drop our baggage at our hotel.
Our hotel is Hey Bear Capsule Hotel! Capsule hotels are trending in cities and metros in other countries like Japan and Singapore because they offer cheap accommodation while not looking too cheap and experiencing horrible stay.
It is located just across the exit, from the escalator going up, exit right of Taipei Bridge Station. Look for this building: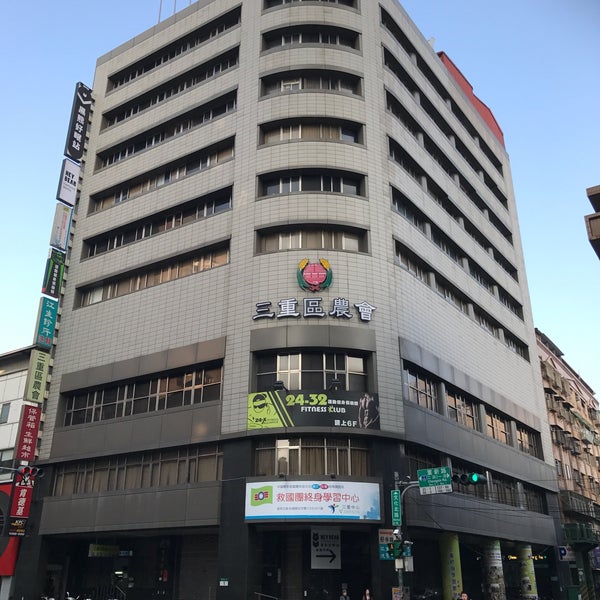 See the arrow? The entrance was on the side, we thought it was on the front and assumed that this whole building is Hey Bear only. Shame! HAHA! So a guy lead us to the side and guided us to an elevator going up to the 8th flr of the building, Hey Bear Capsule's lobby. The staff was accommodating and can speak and understand English, not fluently but enough to make conversation easier. They let us drop off our bags first because their check-in time is 3PM and we arrived there before lunch. After refreshing and planning a bit, we set off to our first location which is the Chiang Kai-Shek Memorial Hall.
The hall was near exit 5 on CKS Station. There are maps on the station with landmarks on them on where you want to go, so don't forget to check those maps. It'll be a huge help if you exited on the nearest exit of your landmark.
It was noon already when we finished touring this site and we decided to set off to find Jin Feng Restaurant for lunch. Along the way we saw a small bridge and decided to take pictures and rest before leaving the place.
After eating lunch somewhere near CKS Station because we failed to locate Jin Feng, but we found it after eating LOL super fail!! We go back to Hey Bear to check in and to take a shower and some rest. We didn't slept well in the airport as you know. Then we are off to YongKang St. in Dongmen Station for some night market and some shopping.
LUCKILY after we exit the station, we found Din Tai Fung! Famous for its xiao long bao or soup dumplings. And did I mention that this restaurant is a 3-star Michelin restaurant and the original? HAHA
Of course we order xiao long bao 10pcs, I think it costs 220NTD and a beef and tendon noodles which they said that it is spicy but apparently it was not that spicy.
So okay, soup dumplings. It was my first time eating this dish and the moment I put one in my mouth and took a bite, I was look, OMG! The whole thing just melted inside my mouth and all the fatigue and weariness faded away! AHHHHHH, then a sip of jasmine tea to wash it down. FUDGENESS! GOOD HEAVENS!! The flavor was mild and light but boiiiii it is like wildfire in my mouth.
Then after eating, we went to Yong Kang St which was the street right beside the restaurant. And off we walked down the street. There are so many food stalls and small shopping store in the area. We didn't bought any food because we were still full from the dinner we had. But it was soooo nice walking down at night down a crowded and lively street without worrying about your safety.
After getting to the end of the shops, we walked back and bought pasalubong from the store on the left of Din Tai Fung. They sell pineapple cakes 10pcs for only 150NTD or 100NTD. There are also mochis and nougat cracker. I seem to notice that nougat crackers are a thing in their souvenir stores, I got to taste one and it was peanut butter flavored. didn't appeal to me. Sorry. We also went inside drugstores to look for cheap facial masks because aside from food, facial masks is a thing in Taiwan I guess. But I found better things than face masks, shampoos!
Remember my Ka'Fen post last year? That brand was made in Taiwan and there are different varieties of the hair care series and again, lucky me, I saw a buy 1 take 1 for 199NTD! One bottle is 250mL so yay! It was a steal considering the one I saw in FB costs 600-700PHP per 250mL bottle. Ofc I bought it! Why wouldn't I! Hopefully the promised results will show. Haaaaa, hair problems. Anyway
Okay I am ranting again.
Anyway, we ended our day tour after we went to YongKang St because sleep and fatigue is downing at us.
So that's it for our day 1 in Taiwan! We didn't do much as planned but hey, things go for the better when not planned right? We didn't waste our time, we were just taking it in, taking Taiwan in, their culture, their norms and their personality.
If you have questions, how-to's, ask away and if I can help, I will answer it!
Thank you for reading!